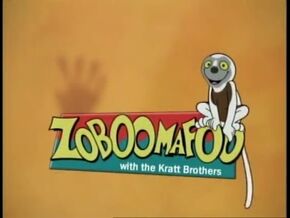 Zoboomafoo is an American-Canadian children's television series that originally aired on PBS for 30 minutes from January 25, 1999 to November 21, 2001. Created by Martin Kratt, Chris Kratt, and Leo Eaton A total 65 episodes were aired. Produced by Maryland Public Television And Earth Creatures.
Cast
Chris Kratt as himself
Martin Kratt as himself
Gord Robertson as Zoboomafoo
Genevieve Farrell as Amy
Segments
The Mystery Animal (Song: "Who Could It Be?")
Zobooland Story #1
Duck/Animal Helpers
A Journey to Visit Animals (Song: "Going to the Closet")
Zobooland Story #2
Ending Theme: Animal Friends
Funding
HealthTex (1999-2000)
Lipton Tea (1999-2000)
Dannon Danimals (1999-2008)
Contributions to your PBS station from Viewers Like You
Community content is available under
CC-BY-SA
unless otherwise noted.