"In WordWorld, words come alive, words save the day, and words become a child's best friend."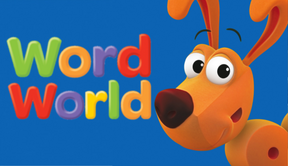 WordWorld is an American CGI animated television series that debuted on PBS Kids. Where the characters, buildings and, objects are shaped like the words they are made of. For example, Dog is made up of the letters D, O and G. As Duck and his WordFriends go on adventures and face challenges, they build a word which then turns into the thing it is, such as a mountain made up of those eight letters. It was created by Don Moody, Jacqueline Moody, Peter Schneider and Gary Friedman. WordWorld was produced by The Learning Box and WTTW Chicago. The series premiered on September 3, 2007, and ended on January 17, 2011, with 45 episodes and 3 seasons. But in 2013, WordWorld was recalled after a complaint of ABC Song: Adult Version.
Characters
Descriptions from the official website:
Duck is still learning his letters and letter sounds... and, often, his social skills, which can get him into some pretty silly situations. Luckily he has his WordFriends to help him out of trouble.
First in line is usually Frog, the cautious brainiac and word "expert," whose crazy inventions sometimes don't work exactly as planned. Frog can get frustrated by Duck but cares for him like a brother.
There is also Sheep, who loves to pretend. She will take on the role of detective, princess, super hero—anything to help her friends!
Pig, a marvelous chef and a bit of a "ham", lives life moment by glorious moment.
His best buddy, Ant, is a hard-working bundle of energy who manages to keep Pig in check, run a radio station out of his anthill, and lead a family of hundreds of ant cousins.
Dog is the series' protagonist and is always ready to play, play, play (and build a word)!
Funding
U.S. Department Of Education
Episodes
Main article: List of WordWorld episodes
The series premiered on September 3, 2007 and is going to ending on December 2017, after 81 episodes in four seasons.
Gallery
External links