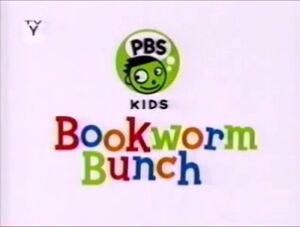 PBS Kids Bookworm Bunch was a Canadian/American children's animated television block produced by Toronto-based company Nelvana. The shows were all based on popular books from the time. It ran on PBS from September 30, 2000 to September 5, 2004 and ran on either Saturday mornings or Sunday mornings, depending on station preference and scheduling.
First season (2000-2001)
The block was originally announced in August 1999, when Nelvana offered to create PBS' first weekend morning block.
The first season of the Bookworm Bunch premiered on September 30, 2000. The block originally ran for three hours, and special idents were made to set it apart from the main kids' programming. The shows that aired on the Bookworm Bunch when it initially launched were Corduroy (the first and second segments of this show aired at the beginning and end of each showing; thus, each show would start at either fifteen or forty-five minutes past the hour), Elliot Moose, Timothy Goes to School, Seven Little Monsters, George Shrinks, and Marvin the Tap-Dancing Horse.
When the block premiered, each show was succeeded by a promotional spot for Elliot Moose, then after five-to-ten weeks, replaced with music videos featuring songs performed by Nancy Cassidy. Each of these were a montage of clips of every show that aired on the block at that time set to said songs, usually coming from albums called KidsSongs.
The season's final "episode" aired on February 24, 2001, and all thirteen episodes of each show on the block continued in reruns until October 27, 2001.
Second season (2001-2002)
Because of the block's immense popularity, it was brought back for a second season, which first aired on November 3, 2001. Corduroy and Elliot Moose were removed from the block, leaving the schedule down to the other four shows: Timothy Goes to School, Marvin the Tap-Dancing Horse, Seven Little Monsters, and George Shrinks (aired in this order on the traditional hour and half-hour minute marks). Three of the songs used in the first season were not used, instead being replaced with two others (two of the first season music videos were expanded).
The final episode of the entire block aired on February 23, 2002; afterwards, the season was reran on selected stations and the PBS Kids Channel until September 5, 2004.
Weekday version (2003)
On January 6, 2003, two of the shows from the Bookworm Bunch - Seven Little Monsters and George Shrinks - were moved to weekday slots, the former of which was cut down from thirty minutes to fifteen and was now paired with episodes of The Berenstain Bears. On a couple of stations, these shows were aired back-to-back, forming an unofficial weekday version of the block.
This experiment did not last long, as afterward, the Seven Little Monsters episodes of the SLM/BB double-bill were removed and the Berenstain Bears segments were kept intact.