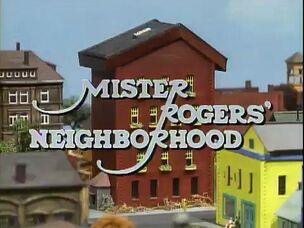 Mister Rogers' Neighborhood is an American half-hour children's television series that was created and hosted by namesake Fred Rogers. The series originated in 1963 as Mister Rogers on CBC Television, and was later re-branded in 1966 as Mister Rogers' Neighborhood on the regional Eastern Educational Network (EEN, a forerunner of today's American Public Television), followed by its U.S. network debut on February 19, 1968, and it aired on NET and its successor, PBS, until August 31, 2001. The series is aimed primarily at preschpol ages 2 to 5, but has been stated by PBS as "appropriate for all ages". Mister Rogers' Neighborhood was produced by Pittsburgh, Pennsylvania, public broadcaster WQED and Rogers' non-profit production company Family Communications, Inc. The Total is 909 episodes.
The series is rated TV-Y
Mrs. McFeely glues a pocket on the front of a red shoebox, glues 3 lights on the front of a pocket, puts 3 sticks in the pocket, glues all the black train wheels under the red shoebox, glues black windows in the middle of the red shoebox, glues orange seats in the Windows, glues 2 yellow neighborhood trolley signs with yellow gates closed on top of the red shoebox, and glues a red siren light in the middle of the neighborhood trolley signs and between the gates closed to make a trolley for Fred Rogers for make-believe.
Cast
Fred Rogers as himself
David Newell as Mr. McFeely
Betsy Nadia's as Mrs. McFeely
Betty Aberlin as Lady Aberlin
Chuck Aber as Neighbor Aber
Don Brockett as Chef Brockett
Maggie Stewart as Mayor Maggie
François Clemmons as Officer Clemmons
Funding
Public Television Stations (1975-2001)
The Corporation for Public Broadcasting (1971-1976, 1991-2001)
Ford Foundation (1975-1976)
The Sears-Roebuck Foundation (1968-1992)
Johnson & Johnson Baby Products Company (1975-1976)
Community content is available under
CC-BY-SA
unless otherwise noted.