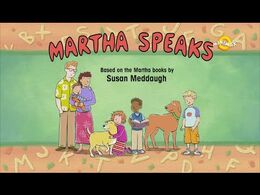 Martha Speaks is an American-Canadian children's educational television series based of the 1992 children's book of the same name by Susan Meddaugh. Produced by Oasis Animation and WGBH Kids in Boston.
Voice Cast
Tabitha St. Germain as Martha / Mariela Lorraine / Jake Lorraine
Brian Drummond as Skits / Daniel Lorraine / Dr. Harold Pablum
Madeleine Peters as Helen Lorraine
Alex Ferris as T.D. / Milo Lee
Michelle Creber as Alice Boxwood
Kathleen Barr as Polly Boxwood / Ronald Boxwood / Mrs. Eula Demson
Vanesa Tomasino as Carolina
Cedric Payne as Truman Oatley
Colin Murdock as Otis Weaselgraft
French Tickner as Alfred Abbott
Matt Hill as Kazuo
Terry Klassen as O.G. Kennelly
Nicole Oliver as Janice Kennelly / Mrs. Clusky
Funding
Kiddie Academy
Chuck E, Cheese's
Chick-fil-a
The Corporation for Public Broadcasting
The U.S. Department of Education
The Arthur Vining Davis Foundations
WGBH Children's Educational Media Fund
Viewers Like You! Thank You!