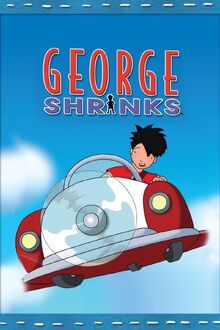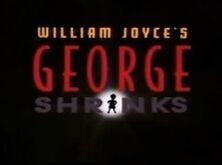 George Shrinks is a Canadian–Chinese children's animated television series. It is based on the children's book by William Joyce, produced in China by Jade Animation and in Canada by Nelvana, in association with Public Broadcasting Service (PBS). It tells the story of a ten-year-old boy named George who, one night dreams that he is three inches tall, only to wake up and discover that it is true. The show details his adventures with his friends and family going through his adventures on his mini machines that George and his musical father have created. The total is 40 episodes from the first two seasons.
The series started on September 30, 2000, on PBS Kids as part of PBS Kids Bookworm Bunch. The Bookworm Bunch disbanded in 2004, but George Shrinks was given an individual PBS debut on January 6, 2003, along with The Berenstain Bears and Maurice Sendak's Seven Little Monsters.
Voice Cast
Tracey Moore as George Shrinks
Robbi Jay Thuet as Harold Shrinks Jr.
Bryn McAuley as Beckey Lopez
Paul O'Sullivan ad Harold Shrinks
Other, minor, and one-time characters
Catherine Gallant as Aunt Eunice
Sean McCann as Russell Copeland
Funding
Viewers Like You/Thank You
Community content is available under
CC-BY-SA
unless otherwise noted.