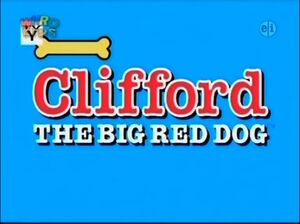 Clifford the Big Red Dog is an educational animated children's television series, based upon Norman Bridwell's children's book series of the same name. Produced by Scholastic Productions, it originally aired on PBS Kids from September 4, 2000 to February 25, 2003. With the launch of PBS Kids Sprout on September 26, 2005, Clifford did not air on this channel after it was taken off of it.
Voice Cast (2000 series)
John Ritter as Clifford the Big Red Dog
Cree Summer as Cleo
Kel Mitchell as T-Bone
Cameron Clarke as Mac / K.C.
Funding (2000 series)
Ready To Learn Television Cooperative Agreement
The U.S. Department of Education
Public Broadcasting Service
The Corporation for Public Broadcasting
Kix Cereal
Dannon Danimals
Lipton Noodle Soup
Milton Bradley
and by Contributions to your PBS Station from Viewers Like You, Thank You!