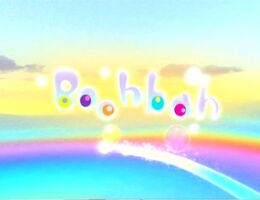 Boohbah is a British children's television programme created by Anne Wood. It premiered on ITV on 14 April 2003 in the United Kingdom. Produced by Ragdoll Productions. The total is 104 episodes from three seasons, it aired on PBS Kids.
Cast
Emma Insley as Humbah
Alex Poulter as Zumbah
Cal Jaggers as Zing Zing Zingbah
Phil Hayes as Jumbah
Laura Pero as Jingbah
Storypeople
Linda Kerr-Scott as Grandmamma
Robin Stevens as Grandpappa
Harvey Virdi as Mrs. Lady
Mark Ramsey as Mr. Man
Manuel Bravo as Brother
Vee Vimolmal as Sister
Sachi Kimura as Auntie
Dash as Little Dog Fido
Funding
Contributions to your PBS station from Viewers Like You
2003-2006
2006-2010
2010 (DVD THJ Magic)
Community content is available under
CC-BY-SA
unless otherwise noted.