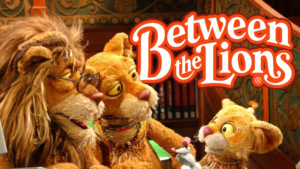 Between the Lions is an American children's television series designed to promote reading. It originally aired on PBS from April 3, 2000 to November 22, 2010. The show was a co-production between WGBH Kids in Boston and Sirius Thinking, Ltd. in New York City, in association with Mississippi Public Broadcasting in Mississippi. The total is 130 Episodes from 10 seasons. The show has won seven Daytime Emmy awards between 2001 and 2007. The target audience is children 5-8 years old. On July 7, 2012, it was revealed the show was gonna be one of PBS Kids Sprout's first shows, but it was replaced by Boohbah in June 2005.
The show is rated TV-Y
Cast
Anthony Asbury / Noel MacNeal as Lionel Lion
Kathryn Mullen / Pam Arciero as Leona Lion
Jennifer Barnhart as Cleo Lion
Peter Linz as Theo Lion / Heath the Thesaurus / Announcer Bunny
Tyler Bunch as Dr. Nitwhite
Tim Lagasse as Arty Smartypants / Barnaby B. Busterfield III / Gus Rabbit
Heather Asch as Clay Pigeon / Click the Mouse / Marmy Smartypants
Rick Lyon as Ted the Scientist Monkey
Lisa Buckley as Chelsea
David Matthew Feldman - Monkeys, Ducks
James Kroupa as Walter Pigeon
Fred Newman as himself
Dr. Ruth Westheimer as Dr. Ruth Wordheimer
Funding
U.S. Department of Education
Corporation for Public Broadcasting (CPB)
Carnegie Corporation of New York (2000-2001)
Park Foundation (2000-2002)
The Arthur Vining Davis Foundations (2000-2001)
Charles H. Revson Foundation (2000-2001)
Institute for Civil Society (2000-2002)
Ready to Learn
No Child Left Behind Grant (2005-2006)
Barksdale Reading Institute (2005-present)
Cheerios (2000-2001)
Chick-Fil-A (2003-present)
Bright Horizons Family Solutions (2006)
Community content is available under
CC-BY-SA
unless otherwise noted.