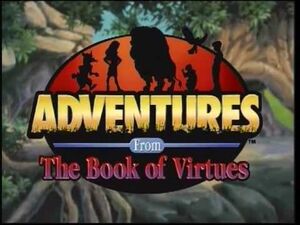 Adventures from the Book of Virtues is an American animated television series which originally aired on PBS Kids in the United States for three seasons and 40 episodes. The beginning in September 2, 1996 and ending in December 17, 2000. Produced by PorchLight Entertainment, in association with KCET in Los Angeles.
Cast
Andrew Francis as Zach Nichols
Adrienne Carter as Annie Redfeather
Michael Donovan as Socrates
Gillan Barber as Aurora
Christopher Judge as Plato
Lee Tockar as Aristole
Funding
CIGNA A Business of Caring.
Chick-fil-a
The Arthur Vining Davis Foundations
Sarah Scaife Foundation
The Burton G. Bettingen Corporation
The John M. Olin Foundation
The annual financial support of Viewers Like You (1996-1998)
By contributions to your PBS station from Viewers Like You. Thank You. (2000)